Where should I write down new English words so that I don't forget them later?
How should I work on English texts?
Where can I save my voice notes and dictations when I'm practicing for an exam?
How do I organize my bookmarks, flashcards, audio-recordings, grammar rules?
And finally, how do I finally start keeping an English language journal to activate my skills?
If you're concerned about any of these questions. today's post is going to make it clear that Onenote might be the best place for you to save and organize all your English notes, including your journal.
Table of Contents
Advantages of paper
I keep most of my notes online, including my journal and client notes. It is more convenient to coordinate the work: tips, comments, corrections, suggestions, and the search function makes it easy to find everything I need.
But I know from my own experience the advantages of keeping records on paper. I love writing with an ink pen on good thick paper, seeing the ink dry, the words shining on the page, and the way they are strung together into lines and paragraphs.
Most studies show that writing on paper boosts retention of information. Another advantage of a paper notebook is that it's at your fingertips, and sometimes it's faster to jot down an idea on a piece of paper than to unlock your phone, find the right icon, and then type or swipe the idea or word.
But if everything is so great with paper notes, then why did I almost give up on analog notebooks?
Disadvantages of paper
Inconvenience
You need to have a paper journal at hand at all times (when you commute, at meetings, at home by your computer, etc.), and this is not always convenient.
When I tried to keep several notebooks for different purposes at different places, I got confused, forgetting in which notebook I wrote down the information I needed and then had to look for it for a long time. The best option for me was to have one system that would work in all circumstances.
Finding necessary information
It's hard to find the information you need quickly in a paper notebook. Yes, you can leave bookmarks or create an index, but that works only when you have time or are organized enough to create and maintain the system, and I'm not good with going back and putting everything in order.
Bullet journaling, by design, involves numbering pages and creating a table of contents, but for me, this hassle discouraged me from writing anything. If I had to find some specific information from my old paper diary now, I honestly wouldn't know where to start. Should I re-read everything?
White page paralysis
For a perfectionist like me, a paper notebook (especially an expensive one) can be intimidating because of its whiteness and beauty. Sometimes I don't dare write anything in a new notebook because I want everything to be neat and pretty. And if I suddenly had to cross something out because of a mistake, I would get upset because of the ugly first page. That's why expensive and beautiful notebooks are not for me (even though I love them).
No remote collaboration
If you're learn English, collaboration and feedback between you and your teacher is essential. Output in English requires feedback, unless you're OK making mistakes and note knowing about them. But how much will you learn without feedback?
I've known teachers who asked students to take a picture of their homework, send it via Telegram or Viber, and checked it like that. But how will she explain to you where you made a mistake? Your handwriting may be illegible, and the record itself cannot be edited. She won't be able to emphasize the right sentence, correct a typo, or insert a word. All this makes collaborative work on your notes problematic or even impossible.
My solution – Onenote
After a few experiments with different cloud-based applications, I settled on Onenote.
Why is Onenote the best solution for saving and organizing your English-learning notes and keeping an English journal?
Here are a few reasons:
It's cross-platform and free
Onenote is a free application from Microsoft that comes pre-installed on Windows 10 or 11 by default. If you have a different system, you can download the program from the official page. Your notebook will always be at hand, no matter where you are or what device you have: Windows, Mac, iPhone, or Android.
I have Onenote installed on both my computers and my phone. I often make voice notes while walking, they are synchronized with my main computer and I can later write down in more detail what I had in mind or how my idea can be implemented.
Flexibility
You can create as many sections in your English notebook as you need and add as many pages as you want. For example, the notebook I created for my subscribers has such sections as Class notes, Grammar, Vocabulary, Worksheets, Hub, etc. If necessary, my student can create additional sections on their own. For example, you can collect your notes in the Writing section, and move dictations to the Dictations section.
Internal links
At any time, you can insert not only links to external resources, but also links to other pages in your notebook or even individual paragraphs. That makes navigation inside Onenote a breeze.
Using internal links allows you to create your own personal Wikipedia – a database of information that you personally need.
It is also very convenient when working together, if you need to direct a client to the right rule, example, or send them to a similar error 2 weeks ago.
Variety
You can insert various types of information into a page: links, photos, audio notes, tables, handwritten text, Quizlet cards, videos, and files to save you from searching through different folders on your computer.
For example, you can create a section with progress metrics (table with checkmarks or number of words learned, posters of movies watched, or texts you've written), a section with links to dictionaries or other useful resources, a section with vocabulary or grammar exercises you've done, and so on.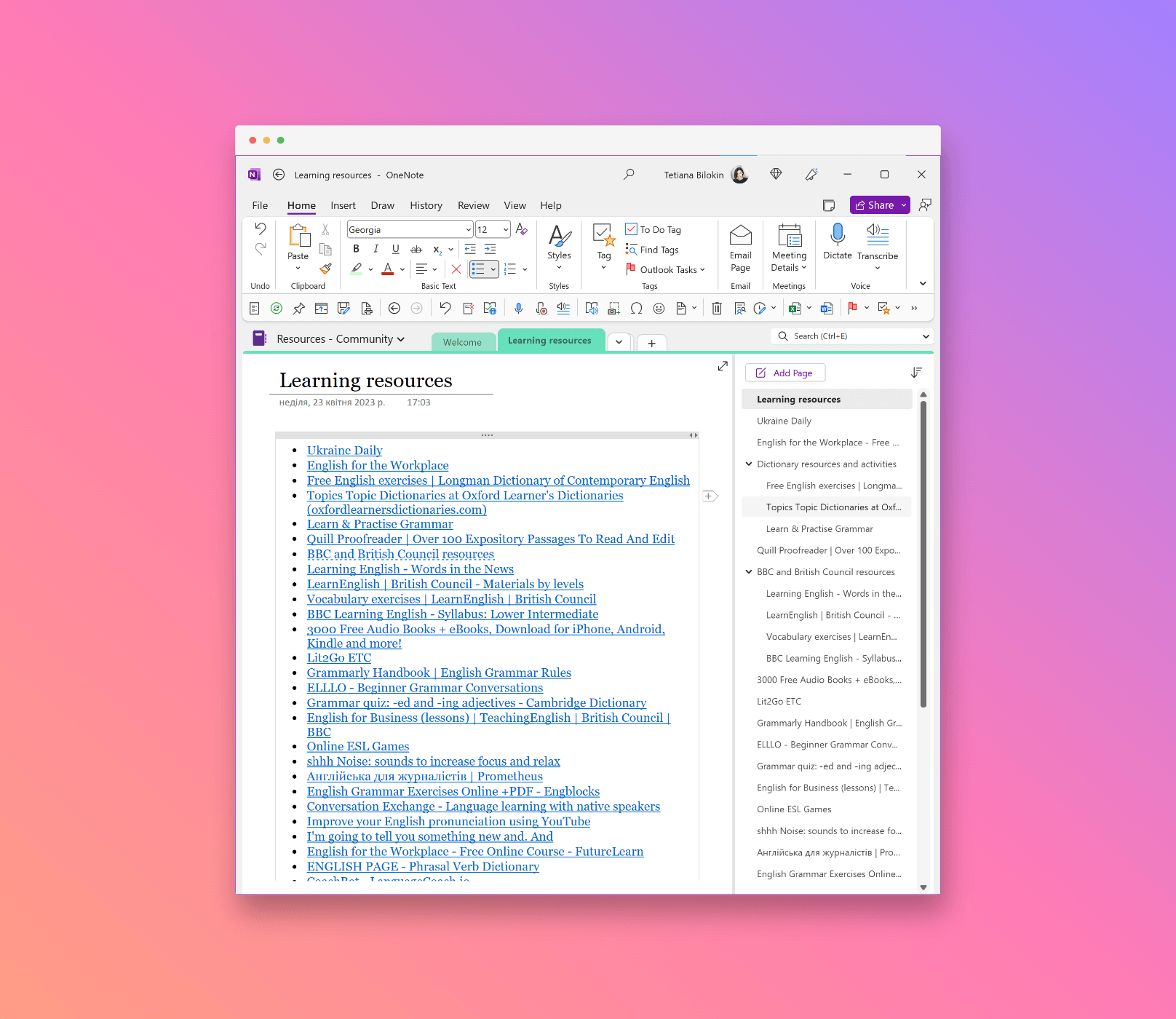 Text editing
Onenote allows you to forget the little things that don't matter at the time you write a note. Just like Word, you can edit, cross out, delete, and format text as much as you want, when you want.
What I really like is that I don't have to worry about whether I've saved the document: everything you write in Onenote is saved and synchronized automatically.
That's why I type all my notes for social media and articles for my blog in a notebook.
But to top it all off, you can not only write your thoughts here, but also copy text or images from the Internet and paste them onto the page. I save images, quotes, links, tables or charts, even videos in Onenote.
Unlimited canvas
I've always loved large-format notebooks because they're convenient for writing, drawing, making mind maps, etc – you don't have to worry about running out of space. But carrying around such "albums" is inconvenient.
With the Onenote app, you can combine the advantages of a large format with compactness: the page won't run out of space, even if you describe every meeting in detail, insert a bunch of photos, tables, or draw something with a stylus.
It's also easy to zoom in (for bigger text) and zoom out (to have a bird-eye view of the whole page):
Interactive content
You can embed Quizlet cards and YouTube videos directly on the page and play them right in the notebook (no need to click on a link or use a browser). On the "margins", you can write out unfamiliar expressions, make comments, and prepare questions.
Search function
Even if you forget where you saved certain information in your notebook, you don't have to waste time remembering, just use the search.
You enter a word into the search bar and look for the information either through all notebooks or within a specific notebook, and then select the one you were looking for from the results. It's very convenient!
Takeaways
As you can see, the OneNote online notebook has many advantages. It's free, secure, easy to use, available on your mobile, and suitable for any purpose. If you want to keep an English journal or organize your English notebook, give Onenote a try and let me know what you think.
Make learning English easier and faster
Tips, resources, insights to help you improve your English