Learn English from movies and TV shows
Speak English fluently and naturally
Are you nervous when you need to express your thought and feelings in English?

Do you find it hard to understand native speakers?

Are you sometimes unsure how to make or maintain a conversation in English?


I can help.
I am Tatiana Bilokin, an online English teacher for adults at Intermediate and above.
I am also a course-creator and the host of an exclusive movie club for English language learners.
Why me?
I've helped my students to:
What students say
I felt like I was stuck at the same level, not making any progress.

As a result, I stopped making mistakes which I had been making for years and didn't pay attention to, started using great collocations and patterns for better English, remembered them better, and now I'm not bored with learning English.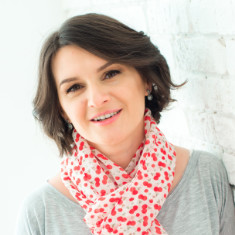 Olha Chumakova
I found you through a recommendation on Facebook, and was pleased with the opportunity for a free consultation.

Within 30 minutes of consultation, it became clear that this is exactly how I wanted to learn English and the teacher I was looking for.
Olha Iustina
I wasn't sure how online classes would look like on Skype, but unexpectedly, everything turned out great for me. I like live communication most, and your explanations of how to say things correctly.

Thank you for making me love English, I hated it at school. I am very happy that I found you.
Ivanna Mocheriuk
The webinar gave me a lot of useful information.
What I learned was how to write a summary in three sentences, what verbs to use in a CV, and much more.

For those who are currently looking for a job, this is a step-by-step guide on what to do (and not to do) when writing a resume, as well as how to make a resume "work"
Olha Olenchyk
I was very lucky with my teacher, because I wrote conscientiously every day and she gave me feedback on it all, provided notes, and explained what was what and how. In short, I am very happy.

To put it bluntly, my hands don't shake anymore and my thoughts don't fly away.
Olesia Tkachyk
A teacher who can fully satisfy your language learning needs.

I really like the way you choose appropriate videos and texts, you always take into account my preferences. And "interesting" means "effective".

In general, lessons that stimulate further learning are priceless!
Tetiana Alianova
Tanya will help you not just learn everything, but only what you need and are likely to use when you speak.

She will select a program to immediately apply the newly learned phrases and words, instead of accumulating extra baggage – "I seem to know and understand something, but for some reason I can't speak."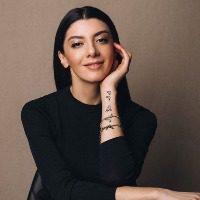 Maiia Akhmedova
Who I work with
My students are working adults who came to me with an intermediate level of English, but have become more fluent and confident in their communication.

All of them appreciated the benefits of adopting a more meaningful and balanced approach to integrating English into everyday life, which I use with my students.
I identify the obstacles that block you from making progress and give you a clear solution on how to optimize your learning, improve your language skills and speak English more naturally and successfully.

I provide 1:1 lessons, consultations, skill-improvement workshops, and run a movie club for English learners.

I also share tips, tricks, and stories from my own experience of learning and teaching in my free newsletter for English learners.
Start today
To find out if we are a good fit for each other or to get more detailed answers to your questions, make an appointment for a consultation
Your blockers
We will discuss what prevents you from studying regularly
Your goals
We will talk about your needs, challenges, and options
Your solution
We will find out which package will be more beneficial and convenient for you
What you can expect from working with me
A clear vision of the necessary steps
If you are familiar with the feeling of confusion and overwhelm in learning English, I will help you determine the minimum necessary for the stable development of your speaking skills
Interest and consistency
If your previous experience of learning English has left you feeling inert, bored, and frustrated, I will offer you learning materials that are relevant and interesting to you, and will use learning tools that keep you curious and engaged.
Confidence
If you are constantly struggling with doubts and fears, I will help you overcome these fears and make communicating in English more enjoyable and psychologically comfortable (not to mention that you will be able to choose words more easily and use correct grammar more freely).
Everything to improve your English
My free newsletter contains proven strategies from my personal experience of learning and teaching English, and it has helped hundreds of subscribers.

Most subscribers find the newsletter interesting, useful, and "definitely worth reading."
My posts
On this website, I share tips, step-by-step instructions, interactive quizzes, and learning resources.

Listen and learn: the best English podcasts for intermediate speakers

Discover tailored English podcasts for intermediate learners. Improve vocabulary, comprehension, and fluency with these top podcast recommendations.

---

Improve Fluency & Confidence: Free Online English Speaking Practice with Native and Non-Native Speakers

Looking for opportunities to improve your fluency and confidence in your English speaking skills? Engage in conversations with both native and non-native speakers. Gain confidence, improve vocabulary, and overcome language barriers. Join us today!

---

Write like a native speaker: 3 prompts and examples to improve your writing with ChatGPT

Improve your writing with ChatGPT! Get tips on grammar, syntax, and style. Correct and rewrite your text to sound like a native speaker. Become a better writer today!

---
---
Movie workbooks
Learn English through 2 romance movies with my movie workbooks!
If you are an English learner and want to improve your language skills while enjoying a great movie, these movie workbooks are perfect for you. With engaging exercises and activities, our workbooks make learning fun and effective.
---
Outcomes
Real situations,
real language,
real Outcomes!
In Outcomes classes, you will significantly expand your vocabulary and speak more confidently on a variety of relevant topics.