These days, there are a lot of resources for learning English. In my notebook, I have a whole section with 100+ links to different language-learning websites and apps.
But this variety has can also be a disadvantage. Why?
Because in order to choose the most important and effective resources, you need expertise to know how to select them, desire to explore, and the most scarce resource – time.
In this post, I want to tell you about 3 tools that I use every day and that I sincerely recommend to my students and readers. These 3 tools – Onenote, Clickup, and Longman – will help you stay on track, focused, and motivated. So, let's dive right into it and take a closer look at these lifesaving tools!
Table of Contents
Use Onenote to organize English learning notes and materials
I once wrote about why Onenote is a good choice if you want to keep an English-learning notebook and an English-language journal. But not only that.
Onenote is a safe and free application that has a desktop and mobile version, and works pretty well in the browser.
For me, Onenote is an all-in-one go-to notebook for learning languages and more. Onenote replaces a bunch of huge dusty folders with dividers, books, and scribbled notebooks that you can't find anything in later. I have been using Onenote for over 10 years and find it to be the most convenient tool for me, although I have tried a variety of different versions.
What you can store in Onenote
Notes you type or copy from the web or a file on your computer
Handwritten notes if you use a stylus
Audio files and audio notes to practice listening or to record speaking tasks (for teacher review)
Links to external and internal resources – to other sections or pages in the notebook
Interactive content (YouTube videos, Quizlet cards)
Images (tables, screenshots, photos)
PDF files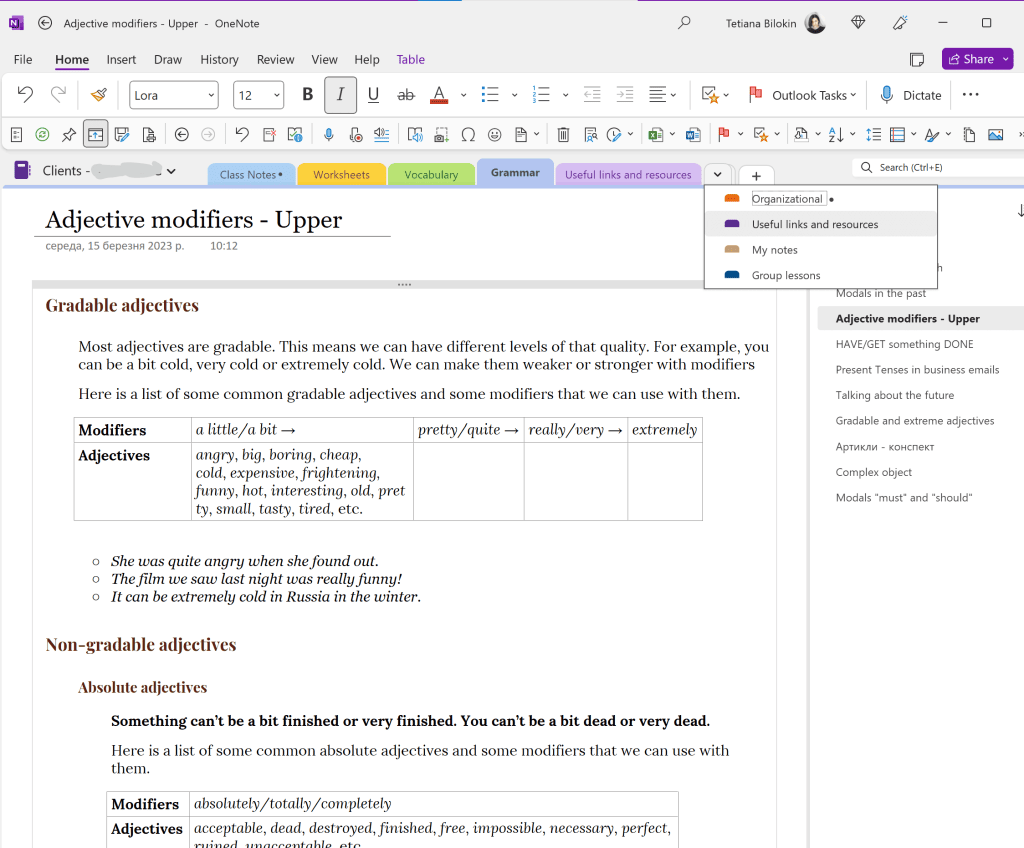 How to store English-learning resources in Onenote
Collecting resources and materials in a notebook is easy:
You can use a browser extension (for example, if you want to read an article in detail in English)
You can copy text or pictures and paste them onto the right page (grammar rules, tables, or dictionary words)
You can make quick notes in "Sticky notes" – they are synchronized with the notebook
You can send (save) what you need from your mobile (save links or screenshots)
If you want to save an email, you can redirect it to a special address, and it will be saved in Notepad.
Onenote has such convenient features as image-to-text conversion, and word search (including in images and PDF files).
Here you can make and sort notes about words and phrases you find in movies, TV shows, articles, or for your email. You can save a screenshot from the dictionary, record a translation, or copy additional examples.
You can create pages with grammar rules or make a collection of programs or websites for learning English. It's a great place to save articles for later language analysis.
You can use different notebooks for different parts of your life. For instance, you might have an English notebook, a Recipes notebook, a Shopping notebook, and a Home and Car notebook. You can create as many sections as you want in each notebook. For example, an English notebook can have sections like Lessons, Vocabulary, Grammar, Articles, Course (name), Free Challenge, and more.
As you can see, some of the sections overlap with the names of lists (or projects) in ClickUp. While in ClickUp, we make tasks to remember what and when we need to learn, Onenote is great for actually working on those projects and tasks. You can collect materials, select the ones you need, process information, and write or dictate drafts of your answers.
Onenote allows you to share a notebook with other people, and as a teacher, it's very convenient. For my clients, I create a separate notebook (for each), share a link to this notebook so that the student can edit it (add, write, highlight, delete, etc.).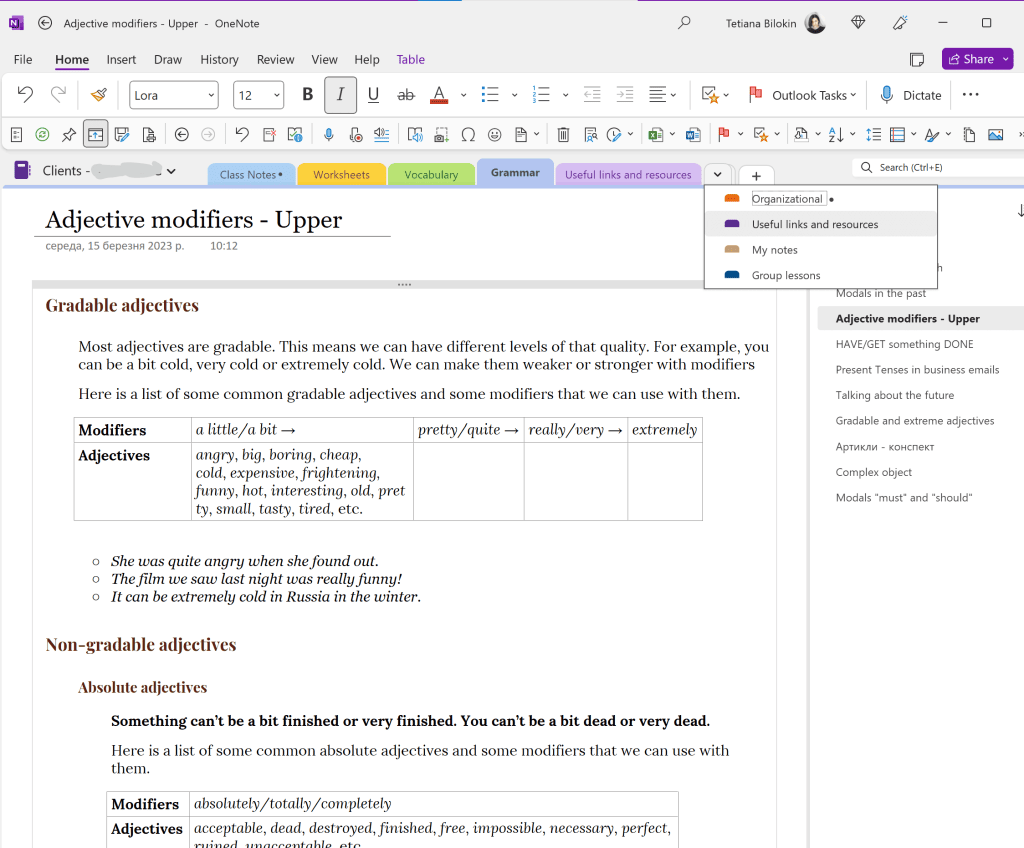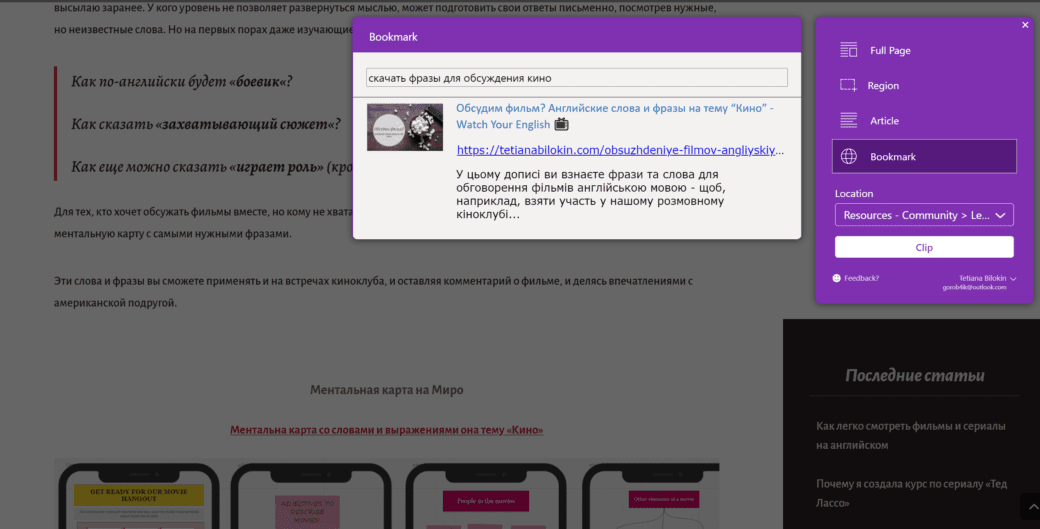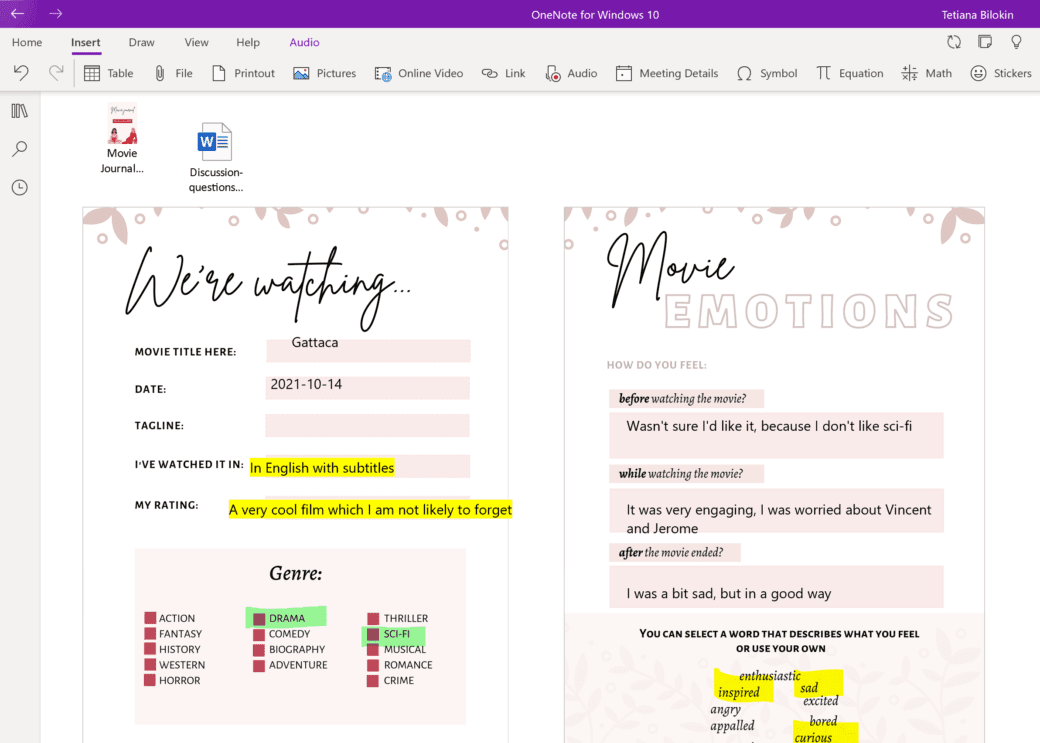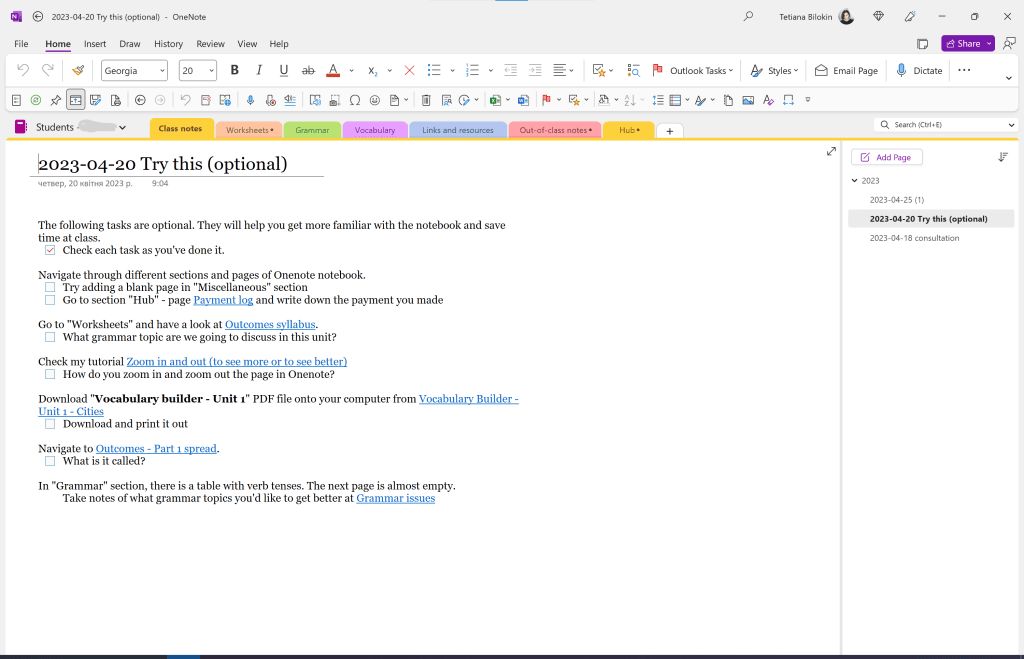 I have organized learning English resources into standard sections for my students – I even have a template of the English-learning notebook:
Class Notes (notes for lessons)
Hub (organizational issues, such as payments and reservations)
Vocabulary
Grammar
Context
Each lesson, I create a link for the client inside the notebook or simply tell them which section to go to. After the first lesson, even beginners find their way around the notebook, which becomes a whiteboard, notebook, and textbook in one.
Why I particularly love Onenote is because it helps me find things easily. If I forget where I saved something important, I can simply search for it and find the page. A couple of keystrokes and you're good to go.
Alternatives: Evernote notebooks, Notejoy, Miro board
Your strategy and learning routine: ClickUp
The ClickUp app helps you organize your learning – think courses, workshops, learning routines – as well as track your time and progress.
It's an app that has a free tier, and you can use it on both your mobile and desktop. Adding tasks is easy with a handy widget (mobile) or a keyboard shortcut on your computer. The program's search works well, so I don't trouble yourself with remembering where and what you've saved – just search for it.
Where to start?
I recommend starting with lists. A list (or project) is something you plan to study over a period of time. Here are some examples of learning projects (from real life experience):
Workshop on organizing learning tools (3 days)
Business letter writing program (2 weeks)
Mini-course on the Ted Lasso series (2 weeks)
6 weeks of spoken lessons with feedback (6 weeks)
English with the Outcomes Pre-Intermediate textbook (9 months).
I advise doing no more than 2 projects at a time, otherwise you'll get overwhelmed.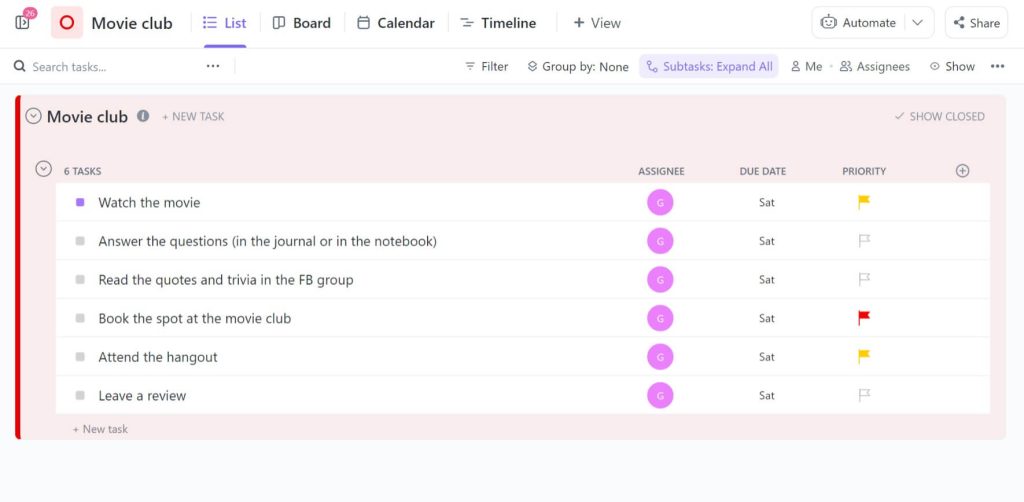 Each list consists of tasks, for example, the list "Mini-course on the Ted Lasso series" will include 4 tasks:
Episode 1 – be going to
Episode 2 – phrasal verbs
Episode 3 – Present Perfect
Episode 4 – articles
etc.
You can do the same task again if you need to. For instance, if you have lessons with a teacher every Wednesday and Friday, you can set a task to "Get ready for homework" to happen again on Tuesdays and Thursdays.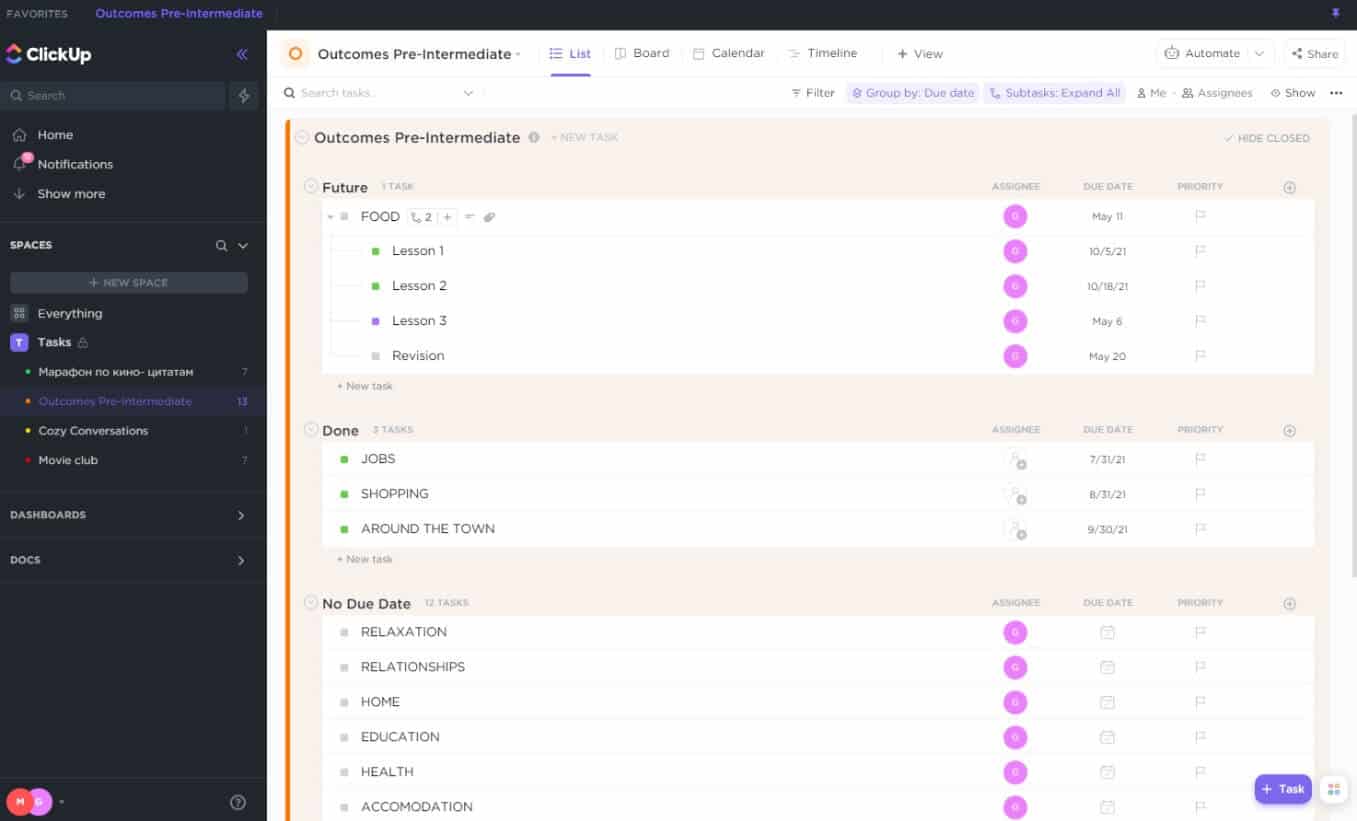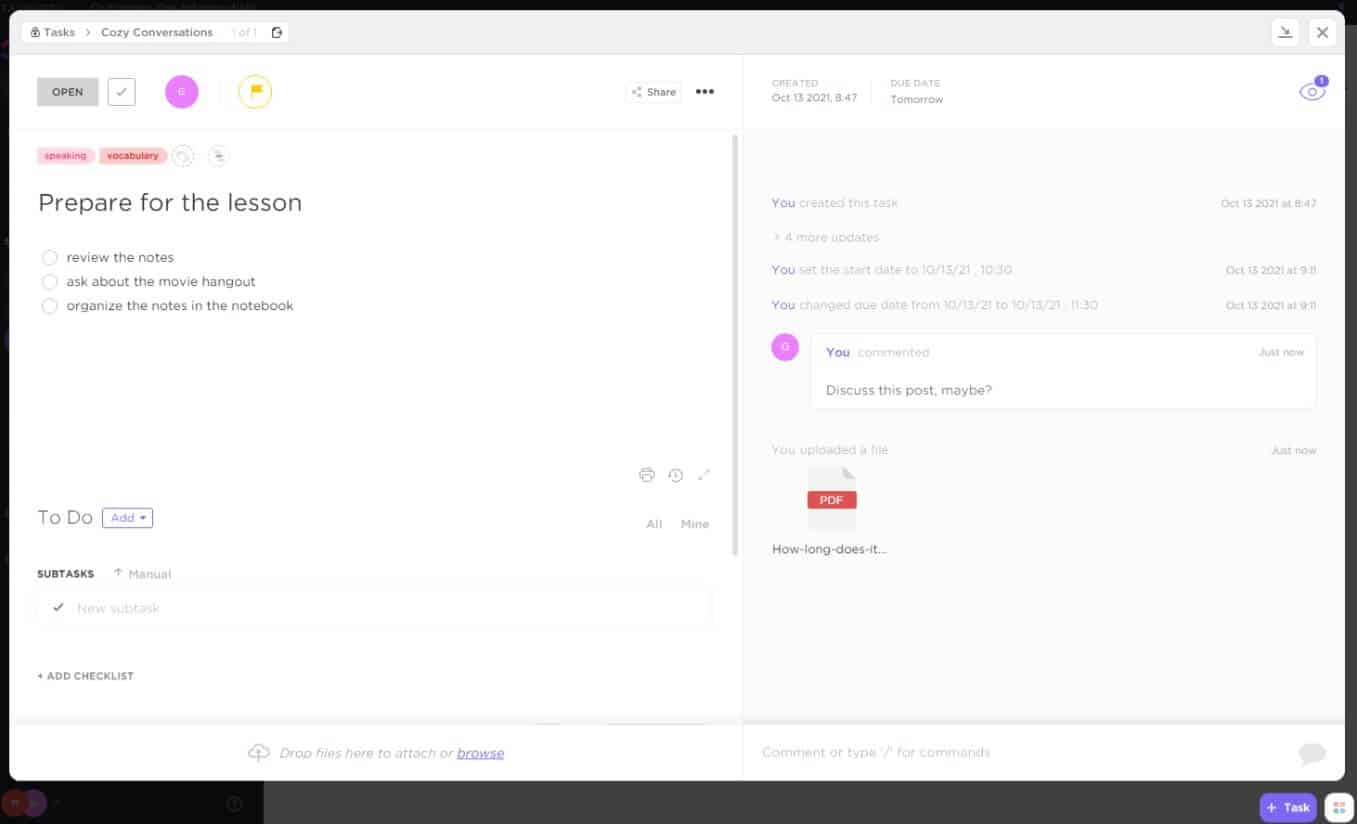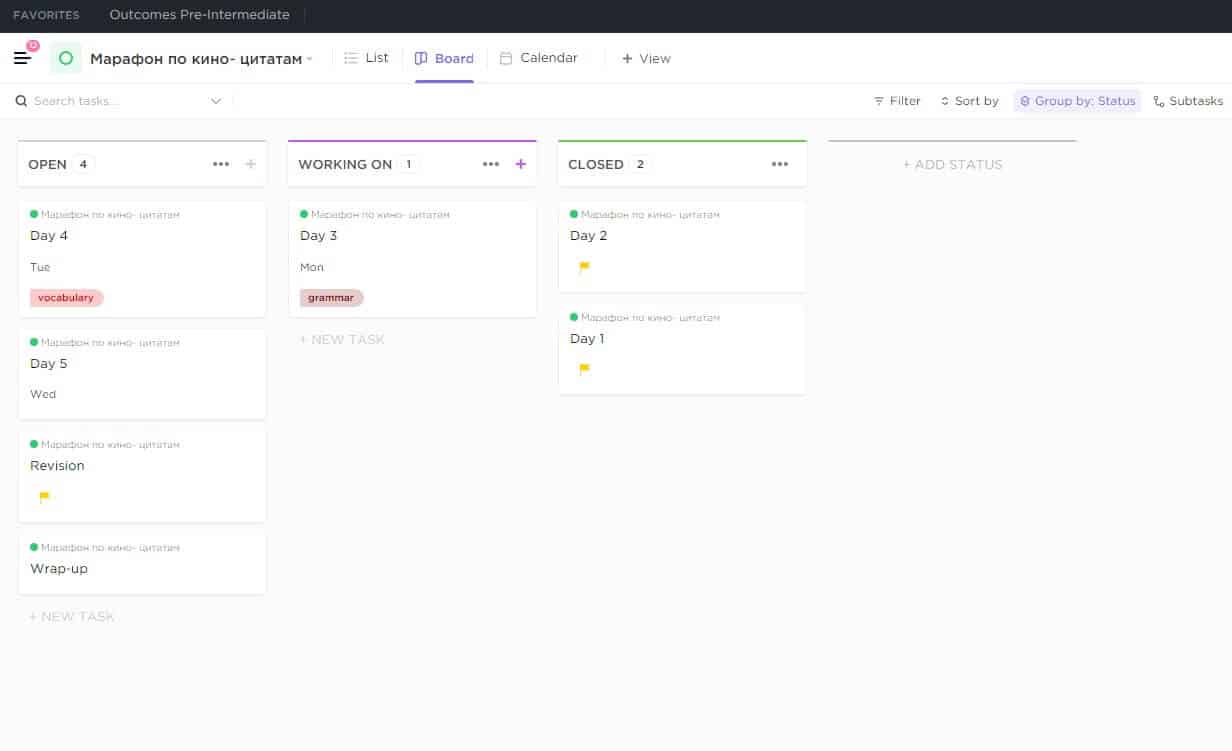 Task options
Inside the task, you can write notes, add lists, attach files, documents, links, and other resources.
For each task, you can change the importance (high/medium/low), the deadline (date), and the status (not started/in progress/done).
You can add comments to tasks, which is important if you are using ClickUp with your teacher. In the comments, you can ask and answer questions, leave feedback on completed tasks, etc.
When you start working on a task, you can use a timer and track how long it takes you to complete that task, and then calculate the time spent on English in a week, or over a month, etc.
Tasks can be sorted and filtered by importance, due date, status, etc.
But my favorite and most unique feature of ClickUp is Home and LineUp.
Home is a page where you can see all your tasks for the day, from different lists, with a calendar panel where you can plan your day, and with reminders.
You can put the most important tasks in LineUp so that they are always at your fingertips.
I suggest you try ClickUp to organize your learning projects and assignments.
Register for free (referral link)
Alternatives: Taskade, Microsoft To Do, UpBase, Trello
Longman: Your Comprehensive English Language Learning Companion
Dictionary is one of my most visited sites. I have several dictionaries bookmarked and in my browser's shortcuts, my favorite of which is Longman.
You can find most language information for learning English in the Longman Learner's Dictionary.
Don't be surprised that a teacher with 20+ years of experience still uses the dictionary several times a day. With a foreign language, there is no point of achievement when you can say "that's it, I've learned everything, I know everything" – it never happens. For me, the dictionary is one of the main "authorities" I rely on to know how native speakers speak (or write), in what situations, with what shades of meaning, etc.
I use a dictionary to understand new words and remember their differences from similar words. I also use it to check how often a word is used, how to say it correctly, and when it's appropriate to use it.
All these nuances (and more) can be found in the Longman Dictionary of Contemporary English Online. This dictionary is ideal for language learners, so I recommend Longman for my student at intermediate level and above.
You can find all the basic information about a word there (except for the translation).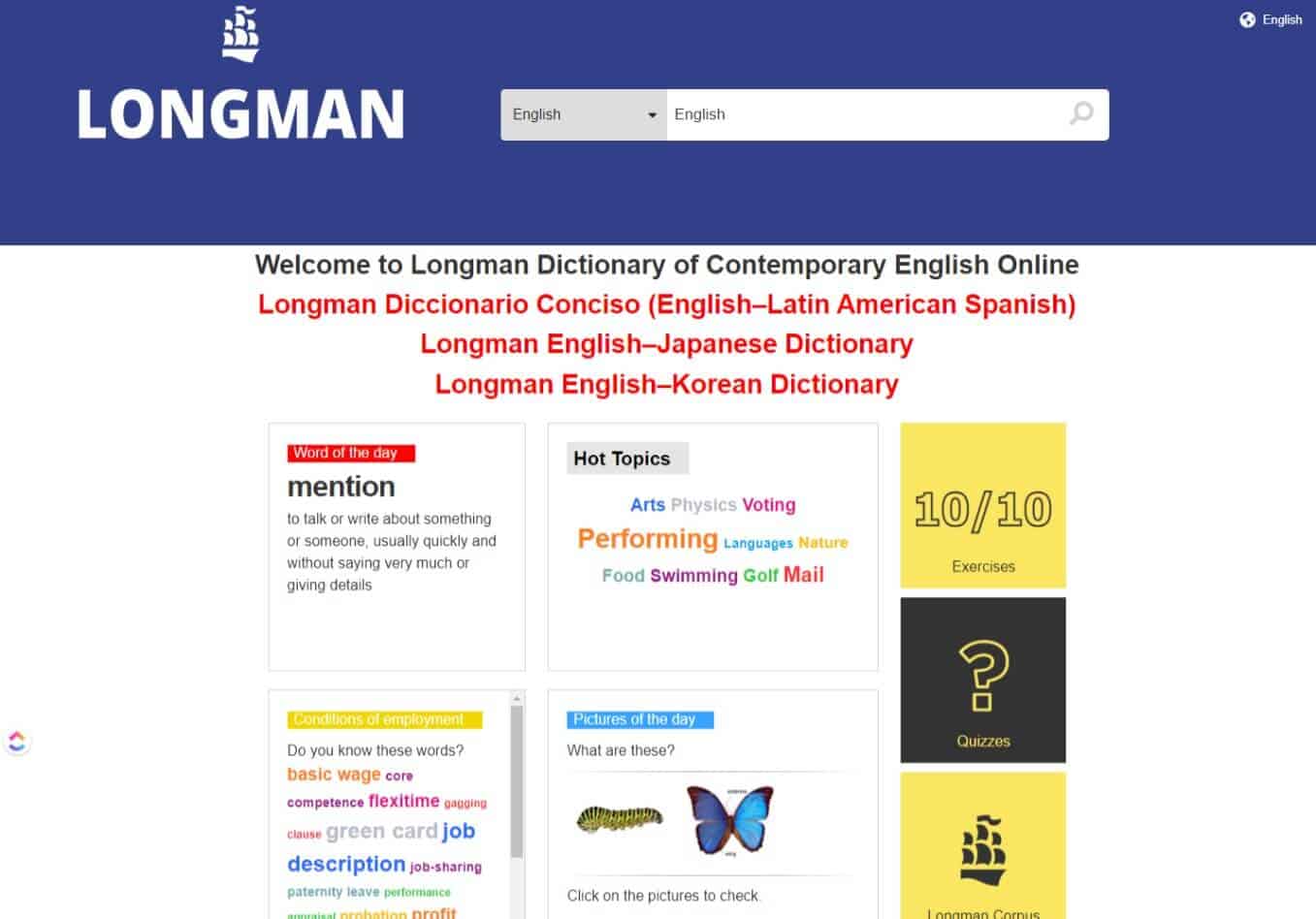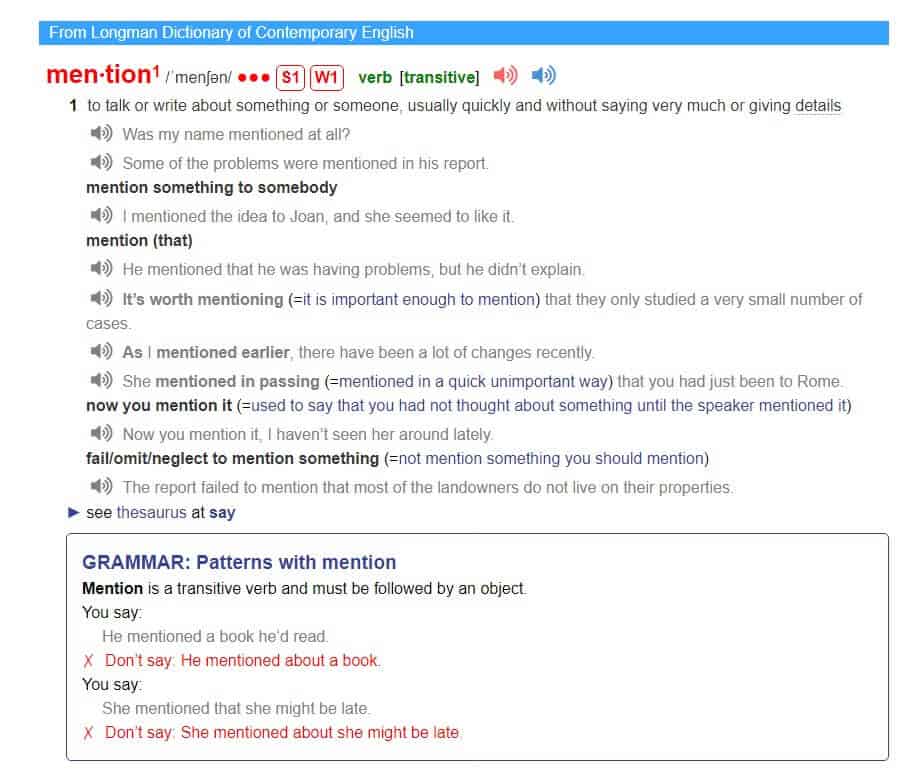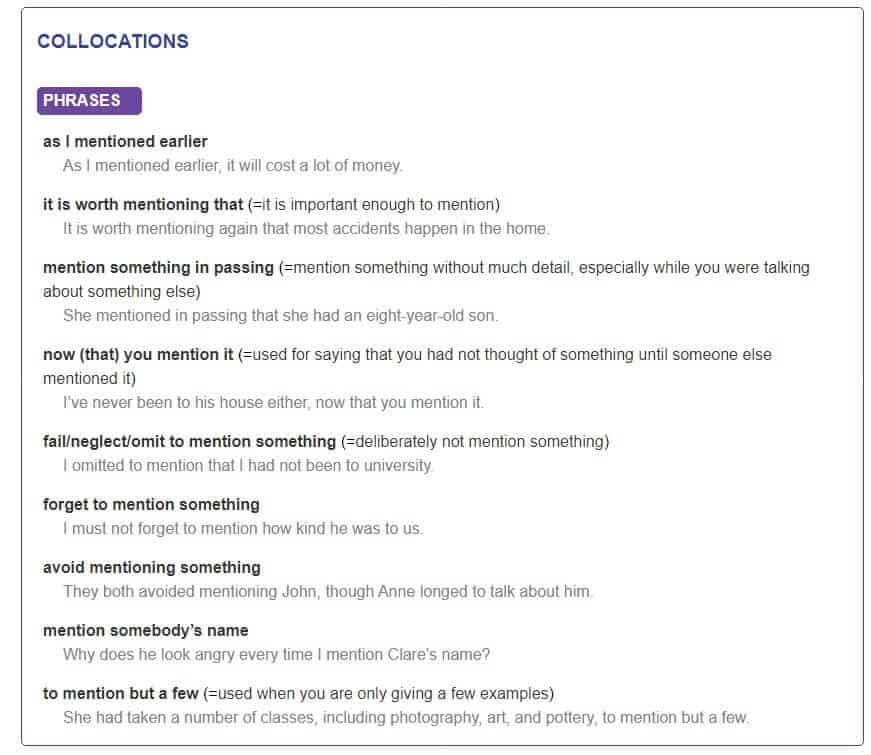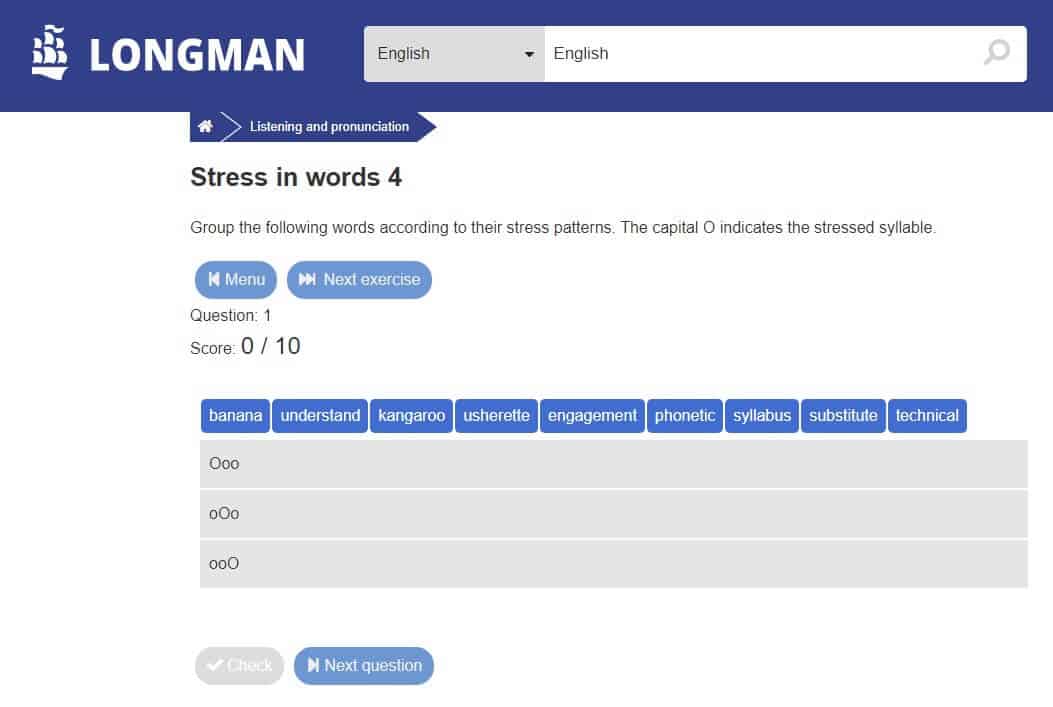 What language information can you find in Longman dictionary?
Word meanings (which are often more accurate and nuanced than translations) – in order of frequency
Transcriptions and audio files to check pronunciation (both British and American)
Part of speech and other useful grammatical information (e.g., whether it's a countable noun or not, transitive verb or not)
Stable phrases with a word are one of the most useful features of a dictionary, which helps to avoid many common mistakes
Example sentences or phrases that allow you to better understand and "feel" how the word is most often used by native speakers
If students often make mistakes with a particular word, sometimes you can see grammar blocks in the dictionary. They briefly explain the rule, write a typical mistake, and separately show how to say or write it correctly.
You can use the Longman dictionary in your browser for free. If you are bothered by ads, there are many extensions that block them. There is an app for mobile (paid), but I didn't feel the need for it because I used the mobile version of their website.
I also use the dictionary to prepare assignments for my students. I copy example sentences and create exercises based on them (to fill in the blanks, translate, or match halves). Thanks to such exercises, any word becomes a part of their active vocabulary. If you are learning English on your own, you can do something similar with the words you want to memorize and use.
You can also use the other resources provided by this dictionary.
Additional useful information you will find in the Longman dictionary
Words by topic
Interactive exercises
Tests
Word of the day (on the main page)
If you want to quickly find translations and understand subtle differences in meaning between similar words, as well as which words they can be used with, use the Longman Dictionary. It provides the most important information that a person learning English is looking for in a convenient form.
Longman dictionary for learning English
Alternatives: Oxford Learner's Dictionary, Cambridge Dictionary, Collins Dictionary
If you're interested in seeing how it all looks and works from the inside, with examples, watch this 20-minute video (in English) that I recorded for you.
Video: 3 everyday tools to organize your process of learning English
Make learning English easier and faster
Tips, resources, insights to help you improve your English